But Catholics also decided to answer these people that priest needs to remain a virgin so that he can focus on the work of God because that is what Jesus Christ did and he was able to fulfill what God has sent him to do.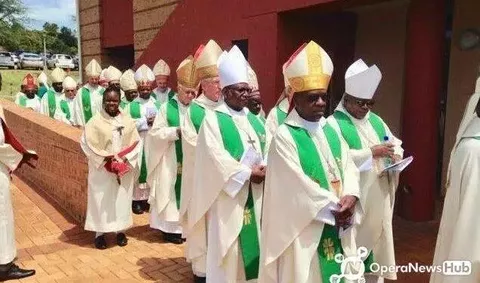 This practice has been going on, but today Daily Spot discovered a very interesting story, today is set to be the final funeral rites of a Roman Father called Oti Boateng. Still, there has been a pure drama as a strange woman named Vida Annin, together with her nine children, stormed the final funeral rites saying that she was the secret wife of the late priest and the kids are for the new priest.
READ ALSO: Davido Is A Scam, Kemi Olunloyo Slams Popular Nigerian Singer
READ ALSO: Police Officer Who Killed George Flody Tried To Commit Suicide
A lot of people were amazed as to whether to believe what the woman is saying or not; the woman continued proving herself by showing pictures of herself with her late husband.
This blew an alarm making people at Jamasi Yonso trooping in their numbers to have a look at the secret wife of the roman father and his children.
The Catholic leaders who were present were all amazed and disclosed that their brother and friends who have died didn't disclose anything like that to them when he was alive.
READ ALSO: Amotekun: Islamic Groups Reveals A Very 'Dangerous' Plot They Are About To Embark On
So my question for you reading this is that, can you be a roman father?
Remember, you cannot marry, and you will be a virgin for the rest of your life oo.