I generally and will consistently lecture about unity among every one of the ethnic gatherings in Nigeria at whatever point I have the chance.
A lady has shared her experience on what happened when she needed to purchase watermelon fro from an Aboki man yet the Northern man wasn't in his spot at that point, presently look at what the Igbo lady who's selling banana close to him did to the lady.
God made individuals together for one advantage or the other, so we can be of help to one another when the opportunity arrives.
How about we take the instance of Mr. Olayemi's experience as a contextual investigation.
The lady portrayed that she went to Fiditi to purchase watermelon and the Aboki man isn't accessible yet incredibly, the Igbo lady selling banana adjacent to the Aboki stood up, leave her market to take care of Aboki's client. That is love and that is the way things ought to be.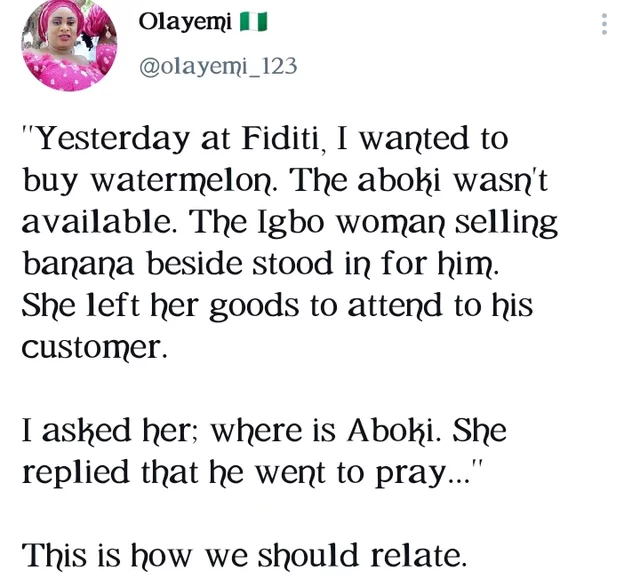 Presently we should take a look at it, Fiditi is in Yoruba land and this Aboki and Igbo lady are both exchanging the land, the one who disparages the Aboki is likewise a Yoruba. Is it not that God made us together like that?
I trust this will change your mentality.
Please don't forget to "Allow the notification" so you will be the first to get our gist when we publish it.
Drop your comment in the section below, and don't forget to share this post.