A popular Nigeria author identified as Reno Omokri has hailed the Nigerian President, Muhammadu Buhari for the first time.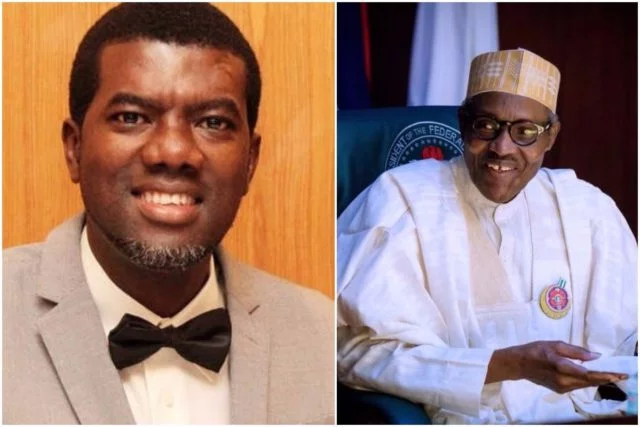 Reno Omokri made this statement after Buhari's lked administration completed the Lagos-Ibadan railway project that was started by the immediate former president, Goodluck Jonathan.
The Nigerian author taking to his twitter handle wrote; "I must commend General Buhari for completing the Lagos-Ibadan railway project. Although this project was initiated and started by the @GEJonathan government, the Buhari administration finished it. They could have abandoned it, but they did not. For that, they should be commended!"
The post got some reactions and some of the reactions are;
@SulaimonAdebe
– Your commendation is good. But can you provide evidence that GEJ started this. We were all here when @ProfOsinbajo performed the ground breaking ceremony for this project in 2017. Please let's set the record straight.
@JEROME14489688
– That's why i dey respect this man Reno the one wey be the truth him go talk am see as him commend Buhari for completing the Lagos-Ibadan railway project. Respect to you Sir
@JamesKaycee
– Sir you're indeed a wise man, criticizing and also commending the president, this goes to show how much you want good governance for this nation
@MetalaSam
– I agree with you on this one. Soon he will commission 2nd Niger bridge. It will be another legacy of his administration
@twinxwin
– Governance is a continuum… Kudos to GEJ who started, and Thumbs Up to GMB who completed the project. We see this one! GOOD!!
@pman2269
– GEJ is one of the finest presidents Nigeria ever had but we all know that he couldn't solve all the problem Nigerians was facing. We love and respect him so much. But sometimes don't always narrow all the great achievement to him. Buhari is always working hard.
@Tracy1625
– One thing I like about you sha is that you are not biased. You speak and stand for truth.
Please don't forget to "Allow the notification" so you will be the first to get our gist when we publish it
Drop your comment in the section below, and don't forget to share this post.