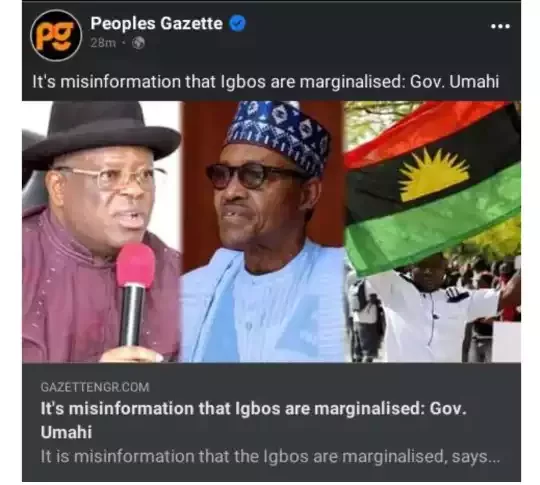 Governor Dave Umahi of Ebonyi State has said the federal government is not marginalizing the Igbo's.
Governor Umahi also confirmed that it is obviously that, due to disinformation, the accusation of Ndigbo marginalization would be impossible to confirm.
He stated this while speaking on Channels TV that it is not true when the Igbo's complain about not having a service chief because part of Delta and River State are all Igbo. Adding that in the 2 states mentioned above has the chairman of Ohanaeze Ndigbo.
He added that he feels the best way to address the issue of agitation if for the federal government to engage in cooperation with the IPOB in order to do away with the insecurity crisis in south east part of the country.
Please don't forget to "Allow the notification" so you will be the first to get our gist when we publish it.
Drop your comment in the section below, and don't forget to share this post.