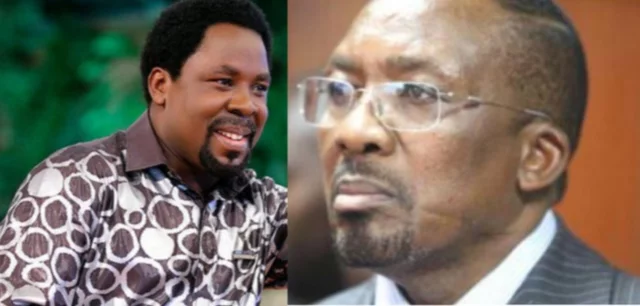 Apparently, yesterday's, Sunday, 13th June, Ng'ang'a revealed a bad experience he had with Pastor TB Joshua.
Pastor James Ng'ang'a the founder of Neno Evangelism Center unveiled an experience with TB Joshua which has got people talking.
Pastor James Ng'ang'a travelled from Kenya to Nigeria to met pastor Joshua for prayers, but he refused to pray for him and asked his servants to give Ng'ang'a a pair of suit.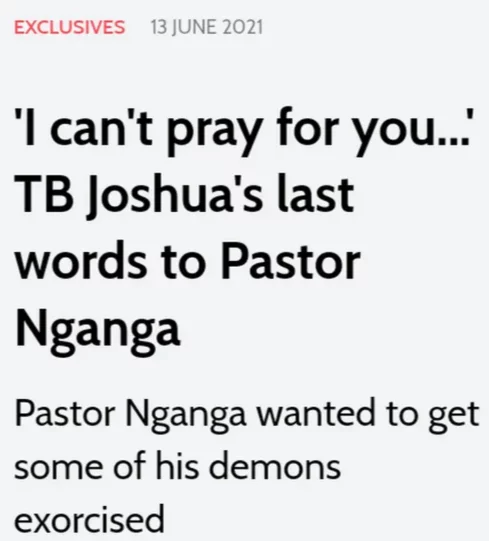 "I went to TB Joshua's church in Nigeria when I had too many issues popping up in my life." he said, "I said to myself, let me go to a man of God to get some of these demons exorcised from me."
He continued, "When I went, he gave me his presidential suite, a very big place. He told his people 'Take this prophet there'."
"I narrated how my ministry is going on well but the newspapers, TV, radio and social media are killing me. he told me, 'Apostle that is nothing to you, you are a man of God, he has given you the power to conquer. All you have to do is keep praying. Don't stop'."
"He told me 'Apostle I cannot pray for you, you are God's man and you should prayer for yourself.'
As reported, Ng'ang'a unveiled that the suit was too big for him. When he returned, TB Joshua told him that since he was a man of God, everything was going to be fine.
Watch Video:
Peoples reaction;
@Geofrey,
"Nganga is a man of God.. especially akianza kupiga ile guitor yake Mimi ujipata ground nikiongea na rieng"@Moureen,
"wangapi tuko 3rd yr hatujakanyaga church we pray confess n worship in private n God answers?"@Evans,
"And what was ng'ang'a's response..lubbish"@Njoki,
"So you mean Nganga tutahave kumzoea hivo juu sasa hakuombewa awache uendazimu 😂😂"@Tony,
"Kwani siku hizi demons zinatoka na shifts?"@Gabriel,
"Some of his demons" meaning that he has many demons or?"@Catherine,
"Ng'ang'a wanted some of his demons exosticed…🤔🤔🤔Where does a man of God get demons from, and what for, and what about the remaining demons 🤔🤔? Nowonder !"
Please don't forget to "Allow the notification" so you will be the first to get our gist when we publish it.
Drop your comment in the section below, and don't forget to share this post.