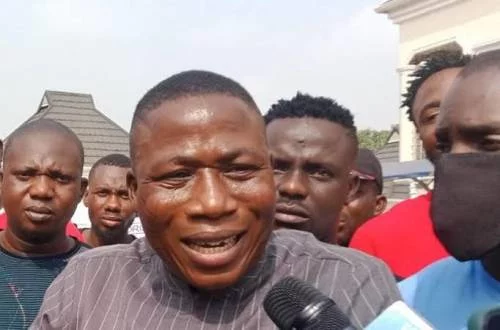 In a video, a Yoruba activist, Sunday Igboho bragged that he can't be threaten or arrested by the Nigerian security agencies.
According to the video, Sunday claimed that if about 1,000 Police personnel comes to his resident to arrest him , they may not all return.
"If you want to arrest me, come. I live in Soka. Make sure you come with a net and wheelbarrow. And don't come at night. If about 1,000 of you come at night, if 100 return, it means you use spiritual powers to disappear.
"I am not the type that can be intimidated by the police," he said.
Recalling that lately last week some operatives of the Department of State Services invaded the residence of Sunday Igboho, and were reported to have killed two of his associates and arrested 13.
The DSS also claimed that several ammunition and charms were recovered from Sunday's residence
Watch Video:
Please do not forget to "Allow the notification" so you will be the first to get our gist when we publish.
Drop your comment in the section below, and don't forget to share this post.