The Kenya government detailed security operatives to ransack the apartment where Nnamdi Kanu, the leader of the Indigenous People of Biafra, stayed in the country when news filtered in last Thursday that his United Kingdom passport was left behind in the East African country, competent sources have informed SaharaReporters.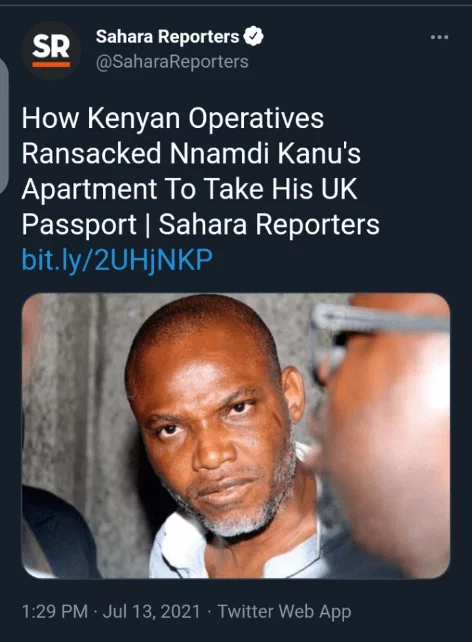 SaharaReporters learned that the Kenya operatives broke into the apartment and searched desperately for the UK passport, but it was eventually not found.
The sources noted that the UK passport had been safely kept away from the Kenya apartment before the intelligence was deliberately released to " serve as evidence that the Kenya government was involved in the unconventional abduction of Kanu to Nigeria."
The lawyer to Kanu, Barrister Ifeanyi Ejiofor, also corroborated this claim, adding that it was too late for Kenya to dismiss the "compelling evidence."
32 killed in protests over Zuma's imprisonment in South Africa
About 32 people have been killed in the violence which followed protests over the imprisonment of Jacob Zuma, former president of South Africa.
According to AP, Sihle Zikalala, KwaZulu-Natal province premier, told a news conference on Tuesday, that the death toll in the province now stands at 26 — a day after officials confirmed six deaths in Gauteng province.
"Yesterday's events brought a lot of sadness. The number of people who have died in KwaZulu-Natal alone stands at 26. Many of them died from being trampled on during a stampede while people were looting items," he said.
Please don't forget to "Allow the notification" so you will be the first to get our gist when we publish it
Drop your comment in the section below, and don't forget to share this post.