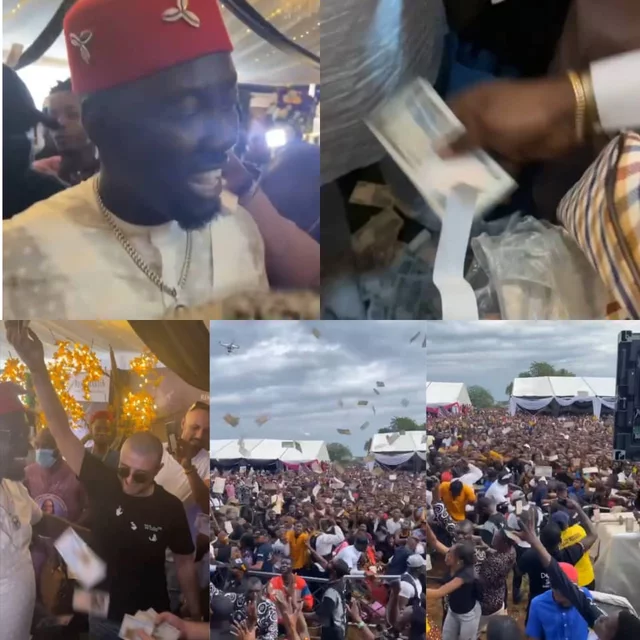 Recalling that the burial of Obi Cubana' mom that happened in Oba town in Anambra state has got many people talking for four days now, a pro-democracy activist, Solomon Semaka has said his lawyers have commenced a legal process to compel the Attorney General of the Federation and Minister of Justice (AGF) and the Central Bank of Nigeria (CBN) to prosecute those found violating relevant CBN Act.
He said that the country's currency currency (Naira) is an important symbol that is protected against abuse in section 20 and 21of the CBN Act.
In consistence, he maintained that there was need to compel the relevant authorities to rise in defense of the nation's currency.
"We will compel the Attorney General and Minister of Justice, Abubakar Malami, SAN and the Central Bank of Nigeria Governor, Godwin Emefiele to apply the law so as to discourage the emerging dangerous trajectory.
"No body is dictating how people should spend their money, but at least they should do so without violating and abusing the integrity of the Nigerian currency"
"Recall that the internet was awash with volumes of money sprayed and splashed at the said burial in Oba in apparent violation of the act protecting Nigeria's currency"
"Those of us who could see beyond the jamboree are concerned about the integrity of our nations currency. We are worried about the social impression given to the younger ones"
"I can tell you that, a lot of young people are already unnecessarily pressured on account of such open and lavish display of money by a group of young people. This can lead many into illegal activities. Certainly, this legally and morally improper"
"This attitude, if not censored, will grow to endanger and undermine the sovereignty of Nigeria's currency with its attendant consequences on the economy and the masses"
"Naira is an important symbol. Its abuse is protected in section 20 and 21of the CBN Act. If you want to inspire the youth, empower them with skills acquisition, craft programmes and workshops to boost human capacity of the youth", the statement noted.
The activist further alleged that credible findings established that Obi Cubana and co have often been involved in the money spraying art at parties even before the trending burial.
"This intervention is not driven by personal primordial sentiments, it is about applying the law while at the same time safe guarding the moral sanity of our young people who would otherwise be misled into criminal endeavors to become rich.
"So morally and legally, Cubana and co breached the codes. It is a criminal offence to spray, mutilate or cause our currency to be abused in a manner it was done at the burial", the statement added.
Please don't forget to "Allow the notification" so you will be the first to get our gist when we publish it.
Drop your comment in the section below, and don't forget to share this post.